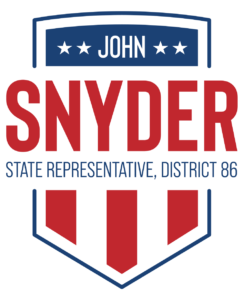 John Snyder is a Martin County native with deep roots in the community and a passion for public service. John grew up in Stuart and graduated from Hobe Sound Christian Academy. In 2007, he enlisted in the United States Marine Corps and served honorably for five years, including a deployment to Afghanistan in support of Operation Enduring Freedom. John returned to the Treasure Coast after his service in the Marine Corps where he worked full time while completing his degree.
Today, John owns a national recruiting and staffing company that he built from the ground up. As a business owner, John knows what it takes to protect, defend, and expand our business-friendly climate. As a third generation Floridian, John knows the precious value of clean water and its importance to our economy. He will fight tirelessly for veterans funding, the protection of first responders, and ways to combat the opioid crisis. We can count on John to cut taxes, empower families with options in education, stand up for the rights of the unborn, and defend the second amendment.
John and his wife Brittany have been married for over ten years and live in Palm City where they are raising their eight-year-old daughter, Elizabeth. John's mother, Keren, is a small business owner and his father, William Snyder, is the Sheriff of Martin County. John's siblings, David and Laura, work in law enforcement and education.
Paid by John Snyder, Republican, for Florida House, District 86.